ReLEx SMILE Laser Eye Surgery Abroad
Cosmetic Surgery Cyprus is now able to offer the latest innovation in laser eye surgery which is ReLEx SMILE.   This is the 3rd Generation of laser eye surgery which uses state of the art femtosecond technology and offers several benefits over the 2nd generation LASIK laser surgery.

How Does SMILE Laser Eye Surgery Work?
SMILE  stands for Small Incision Lenticule Extraction and is a much less invasive procedure that allows correction of even higher myopic prescriptions than previously treatable by standard LASIK Laser Eye Surgery.  SMILE can be used on patients with and without astigmatism .
The procedure is carried out under local anaesthetic which are administered by eye drops.  The state of the art laser delivers a series of precise pulses in the centre of the cornea with extraordinary 3D placement accuracy. These pulses form bubbles that are less than 1/100th the width of a human hair, and which outline the tissue that needs to be removed to effectively change the shape of the cornea.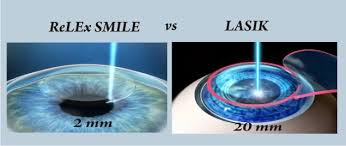 The 2nd Generation LASIK procedure required a 20mm cut to the cornea which could lead to complications such as "dry eye" whereas the SMILE laser eye surgery only requires a very small incision of approximately 2mm.
No flap is created during the SMILE process, so the healing time is faster than conventional LASIK. The procedure takes only 15 minutes, and the patient's vision is 80% better instantly and reaches 100% within a few days
What Are The Benefits Of Having Your SMILE Laser Eye Surgery Abroad
There are a number of benefits of having your SMILE laser eye surgery with Cosmetic Surgery Cyprus:
Cost Saving – Typically the cost of the procedure is more than 50% less than the UK.
World Class Facilities – The procedure is carried out at the award winning teaching hospital, Near East University Hospital in Nicosia, Cyprus.
Experienced Surgeon – The procedure is performed by a very experienced Professor of Ophthalmology.
No Waiting – We are generally able to provide the treatment at short notice.
Short Stay – Because SMILE laser eye surgery is minimally invasive you need only stay in Cyprus for 2 days unless of course you decide to have a holiday and explore our beautiful mediterranean island.
Cost of SMILE Laser Eye Surgery
The cost of SMILE Laser Eye Surgery in Cyprus is only £2200 for both eyes.
Find Out More
Call our telephone operatives to find out more about cosmetic surgery abroad in Cyprus.
UK:
0161 660 3318
Cyprus:
00 90 533 840 5188
We have gained a 25-year reputation for excellence in patient safety, care, and customer satisfaction.