Blepharoplasty Abroad
When Should I Consider Blepharoplasty Abroad?
Unfortunately you cannot stop the natural process of ageing. Everyone is familiar with an increased number of wrinkles around their eyes however there is something else which can lead to visible ageing. As you get older your eyelids can stretch and muscles which control them weaken. The result is excess fat, which may gather above and below your eyelids, causing sagging skin over the top of your eyes and also forming the dreaded bags under your eyes. Not only does this make you look older but the hooding over your upper eyelids can reduce your peripheral vision.  The answer is a blepharoplasty abroad procedure.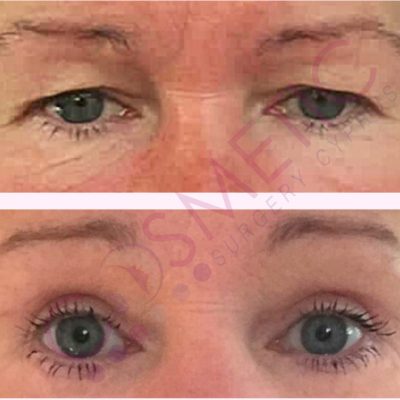 One of the procedures that Cosmetic Surgery Cyprus can offer to improve the appearance of your eyes if this has started to affect you is known as a blepharoplasty procedure. This particular surgery can be done to the upper, lower or both areas of your eyes  and can remove any vision issues as well as making your eyes appear younger and more attractive.  Having your blepharoplasty abroad is the delicate process of repairing sagging eyelids and can include taking away excess skin, tissue and fat.
How Is A Blepharoplasty Abroad Procedure Performed?
The procedure itself is very non-invasive and in most case scenarios can be done under local anaesthetic which not only reduces the risk of complications during the surgery but also allows you to leave the hospital 1-2 hours after the operation. The incision areas themselves are in very concealed positions. If having both upper and lower blepharoplasty abroad, the upper incision is in the crease of the upper eyelid and lower incisions are just below the eyelashes on either sides of the lower eyelids.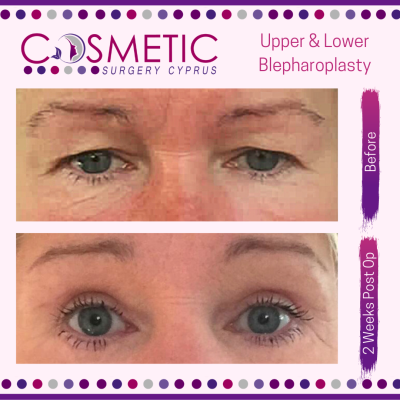 Please rest assured though that if you are not comfortable being awake for blepharoplasty abroad procedure, a general anaesthetic or a sedative can be administered to make you more comfortable.
Recuperation Following a Blepharoplasty Abroad Procedure
Results of blepharoplasty abroad are immediate however, there is a period of caution after the procedure allowing the incisions to heal and then 7 days after surgery you will have the stitches removed. Swelling and bruising can occur in some cases however fades generally within 2-4 weeks. Final results can be seen at, or soon after the 4 week mark and for before and after photos please click the following link to our photo gallery  https://www.cosmetic-surgery-cyprus.co.uk/facial-surgery-and-dental-gallery/
The blepharoplasty abroad procedure can be combined with other facial procedures without jeopardising the results. The surgery can be in combination with a facelift, neck lift and many others. For more information on this please head to our website on the following link; https://www.cosmetic-surgery-abroad.net/treatments/
Find Out More
Call our telephone operatives to find out more about cosmetic surgery abroad in Cyprus.
UK:
0161 660 3318
Cyprus:
00 90 533 840 5188
We have gained a 25-year reputation for excellence in patient safety, care, and customer satisfaction.