Breast Reduction Surgery Abroad
What Are The Benefits Of Breast Reduction Surgery Abroad?
There are a number of reasons why women choose to have breast reduction surgery abroad.  The most common reason is to benefit from the health improvements that breast reduction surgery brings.  Often breast size can increase to the point where it can cause chronic back, shoulder and/or neck pain and other issues such as restricting the amount and type of exercise that can be undertaken.   Also, as we age, breasts will naturally tend to sag more and more and therefore breast reduction surgery (which will usually in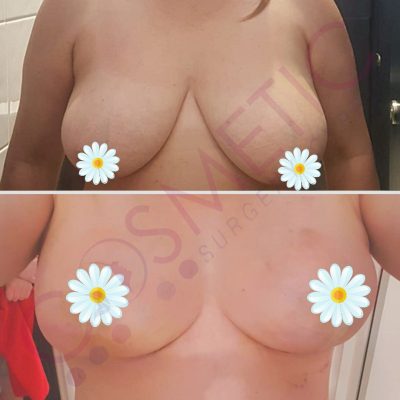 clude a lift) will make the breasts perkier and reduce them to the size of your choice and generally improve the aesthetic look of the breasts .   Many women choose to have their breast reduction surgery abroad because they can save over 50% od the cost compared to average prices in the UK without compromising on quality.  At Cosmetic Surgery Cyprus we are proud to be able to offer one of the most highly regarded surgeons in Europe who has performed literally thousands of breast reduction surgeries.    Cyprus is an ideal location to have breast reduction surgery as you can combine your surgery with your annual family holiday and the wonderful Mediterranean climate with year round sunshine is the perfect place to recuperate following your surgery.
Preparation for Breast Reduction Surgery
Our expert cosmetic surgeon with over 30 years of experience will carry out your initial consultation by reviewing your photographs and will provide his recommended treatment plan including how much  issue can be removed.  On average breast reduction surgery  will reduce the size of the breasts by 1 – 2 cup sizes and often more.  The surgery is performed under a general anaesthetic and will take approximately 3.5 hours.
Recovery Following Breast Reduction Surgery
After breast reduction surgery it is common for patients to experience immediate relief of any prior  back or neck pain.   Dr Bugra uses hidden self-dissolving stitches during the procedure and we recommend that you wear a sports bra for up to 3 months following breast reduction surgery to provide good support to the breasts as they heal and develop into their new shape.   The majority of patients are able to return to their exercise regime approximately 4 weeks following surgery.
Additional Information on Breast Reduction Surgery
We appreciate that it is a big decision to have breast reduction surgery abroad and therefore if you require any further information please check out our website here or call us on Tel: 00 44 161 660 3318.
Find Out More
Call our telephone operatives to find out more about cosmetic surgery abroad in Cyprus.
UK:
0161 660 3318
Cyprus:
00 90 533 840 5188
We have gained a 25-year reputation for excellence in patient safety, care, and customer satisfaction.